Would you be brave enough to stay in a haunted castle? I'm not sure I could do it!
In keeping with the Halloween month, I thought it would be a good idea to talk about the haunted castles in Scotland – castles that you can actually stay in!
Scotland is a place that is filled with a lot of rich history, one that is full of imposing medieval castles that also witnessed many brutal and perilous wars. It is quite clear though, without a doubt, that Scotland is one of the most haunted countries on earth.
With its long list of brutal wars, deadly plagues and political unrest that spilled over hundreds of years there is clearly a lot of history here which helps make it such an incredible space. But the most distinct quality of Scotland is its many long standing castles that are being used today. With a vast number of quarters, stately rooms, massive ballrooms, secret vaults and passageways, Scottish castles are the perfect dwellings for ghosts and ghouls.
Here are some of Scotland's creepiest and most haunted castles that you can spend the night in:
Airth Castle Hotel – Stirlingham
This is considered one of Scotland's most haunted places, Airth Castle in Stirlingshire has a variety of ghosts including a phantom grounds keeper and even the spectre of a dog! According to legend though, a fire devastated the castle and caused the death of a nanny and two children.
Sounds of children laughing have been heard in the rooms and corridors, but when the staff checked the registers and rooms to see if any children were booked in to the hotel, there were actually none. Families who stay with children have also been reported to have a peaceful and pleasant stay in the hotel, as the nanny ghost is said to look after their little ones.
Not exactly spooky since it might lead to a nicer stay if your children get looked after by the nanny ghost, but it still might be something that could creep you out, particularly if you can hear children laughing, but no children are nearby!
If you can deal with children laughing and are just intrigued by the history of this castle, then you'll be pleased to learn that this castle actually has ties to Robert the Bruce. This 14th century castle was once owned by Robert the Bruce's family and has several rooms that are dedicated to some of Scotland's most historically significant figures. Pretty cool right?
It is now a hotel and spa, but don't worry you've still got that historical element, and if you are interested in staying over in a haunted castle, then Airth Castle in Stirlingham could be the perfect one for you!
Address: Airth, Stirlingshire FK2 8JF, United Kingdom
Book Here: Airth Castle Hotel
Barcaldine Castle – Oban
Built in 1609 and restored in 1897, these days Barcaldine Castle provides luxury bed and breakfast accommodation just north of Oban. Having said that though, ghost-hunters have reported a presence in the Great Hall, thought to be the spirit of Donald Campbell.
The Laird of Barcaldine, Donald Campbell, was one of the victims of the brutal Glencoe massacre between Clan Campbell and Clan Macdonald. The Campbells ruthlessly slaughtered the Macdonalds as they slept.
Donald Campbell was murdered in Barcaldine Castle during the massacre led by Stewart of Appin. But to make things worse, after Donald was murdered, his brother, Sir Duncan Campbell, offered Stewart of Appin a place to stay! But don't be too hard on Duncan though, he had no idea his brother was dead.
The rumour is that the spirit of Donald haunted his brother at Barcaldine Castle out of anger after taking in his murderer.
Ghosts aside, Barcaldine Castle is a great place to visit if you are interested in Scottish history, as well as stunning Scottish countryside and a hearty Scottish breakfast!
Address: Benderloch, Oban PA37 1SA, United Kingdom
Book Here: Barcaldine Castle
Dalhouise Castle – Edinburgh
This is one of Scotland's oldest inhabited castles, so it's understandable that Dalhouise has had it's fair share of guests who never left…
This castle was once surrounded by a moat to help protect it from ground attacks, the lowest level of the castle back to the 15th century was a dungeon that was only accessible by a rope. It is said that prisoners were lowered into the dungeons were they served their sentences in the damp dark, with no hope of escape except through death. Which is pretty horrible, but it get's worse…
One of the most famous ghosts to haunt this castle, is Lady Catherine. She was a former mistress of a Laird from Ramsay, who was locked up by the Laird's jealous wife when she discovered her. The jealous wife left her locked up in one of the turrets until she died.
The ghost of Lady Catherine is known as 'The Grey Lady', and if you look closely enough at the windows in the turrets when you visit, you might see her staring out of the window, waiting for someone to rescue her.
Address: Edinburgh EH19 3JB, United Kingdom
Book Here: Dalhousie Castles
Borthwick Castle – Gorebrigde
This castle is actually one that I would love to spend a night in, only because it has connections to Mary Queen of Scots. Borthwick Castle is the castle where the infamous Scottish Queen took refuge in the late 1500s, so that part of the castle history is pretty fascinating.
But it does have some gory pasts, and is definitely haunted, the Red Room in particularly is one that doesn't have a very nice history.
The story goes that it is haunted by another young woman who fell pregnant by one of the Lords of Borthwick. She was apparently gruesomely stabbed with a sword to her pregnant belly and left to die (I do feel really sorry for all these poor women that these stories are based on).
Apparently, due to her gruesome death she never left the castle. She doesn't do anything, but several guests have claimed that they have felt watched and regularly leave feeling sick. The ghost does not harm anyone, but it is clear that she is not happy about her situation.
Address: North Middleton, Gorebridge EH23 4QY
Book Here: Borthwick Castle
Mansfield Castle Hotel – Train
If you think that the hotels that have been mentioned so far might be a bit too scary for you, but you are still interested in staying in a haunted hotel (but don't want anything too haunted), then consider staying at the Mansfield Castle Hotel.
There's nothing too scary about this castle but it is haunted.
The story is that the Fowler family purchased the castle from the Ross family in 1890 and began some significant renovations in 1902. Although the Fowler family's bodies left the castle after they died, their spirits remained (or so some people believe).
The rumour is though that Mrs Fowler is always seen anytime that renovations are being done in the castle, but don't worry she's not there to harm anyone. She is simply just interested in keeping a watchful eye on the renovations. So don't worry, if you plan to stay the night in this haunted castle and there are renovations going on, then she won't be interested in you, just the renovations.
Address: Scotsburn Rd, Tain IV19 1PS, United Kingdom
Book Here: Mansfield Castle Hotel
Bonus (Visiting Only): Crathes Castle – Banchory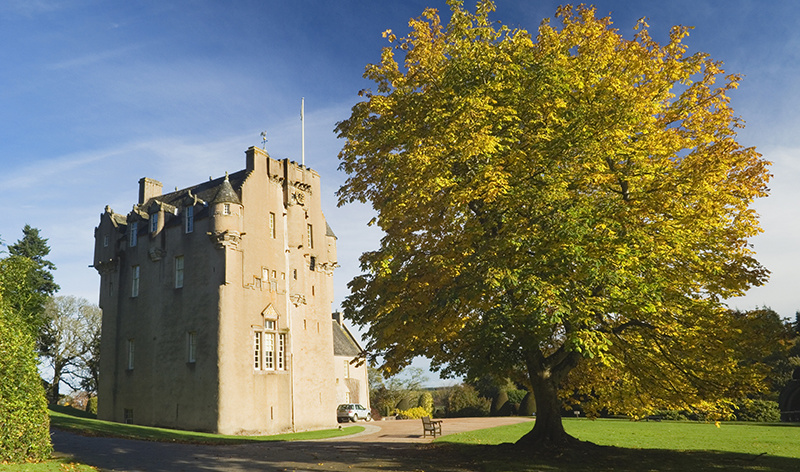 Okay I'll be clear this isn't one that you can stay in, but you can stay in a lodge nearby and the spooky history behind this castle is one that can't be missed!
With enchanting turrets, towers and ornate rooms, Crathes Castle near Banchory certainly looks like a place spirits would haunt. The castle was first built in the 1500s by the Burnett family with the brooding tower house still standing. Within the walls of the 16th century Crathes Castle stalks the Green Lady (a ghostly apparition dressed in a green robe), a forlorn spectre said to be a harbinger of doom for the Burnett Family. But who is she?
The Green Lady always appears in the same room, pacing back and forth from the fireplace, sometimes cradling an infant in her arms. Queen Victoria is counted among visitors to the castle who have witnessed her, but her true identity remains shrouded in mystery.
This still doesn't help her figure out who she is though. Some say that she was a servant girl or a ward of the Laird who disappeared soon after having a child, which might have some truth to it… as in the 1800s, skeletal remains were found behind the fireplace in a room she has been spotted in.
Were these unfortunate souls the victims of foul play? The truth behind their fate will never be known. She may not have been sighted in many years but one thing is certain: an unspeakable sense of dread is felt by all who dare to step foot in the room of the Green Lady.
Are you brave enough to step foot in her room? Unfortunately, you can't stay in this castle, but you can stay near by in the East Lodge (which is a self-catering cottage). It might not be the exact room that you can stay in, but there is accommodation near by, and the spooky history that surrounds this haunted castle is one that you should still consider!
Address: Crathes, Banchory AB31 5QJ, United Kingdom
Book Here: East Lodge at Crathes Castle
Bonus (Visiting Only): Fraser Castle – Aberdeenshire
If you feel like you recognise this castle, then there's a very good reason for this! It's actually been featured on Most Haunted! So clearly this is a castle that will leave you with a spooky feeling when you visit!
The most famous ghost at Fraser Castle is the ghost of the murdered princess, who has been spotted by many residents throughout the castle after her death. The princess was supposedly dragged down a stone staircase which left a bloody trail that was never fully removed. The steps had to be covered in wooden panelling that is still present today.
Unfortunately, you can't stay in this castle but you can still visit! So if you do decide to visit then you should listen up for ghostly piano music, voices and whispers and the sounds of children laughing and singing with no children to be seen as heard by many other visitors and members of staff.
Address: Sauchen, Inverurie AB51 7LD
So there you have it, several castles that you can stay in and experience a spooky night, plus two bonus castles that you can visit.
I have to say that some of the stories behind these castles are certainly gruesome, so no wonder they are haunted. But I'm not sure I would want to stay over in them, I would happily visit, but as soon as the sun disappears I would be out of there in a heartbeat!
What about you, would you be up for staying in one of these haunted castles?